Updates and Upgrades apply to any supported DG version and unsupported DG/ML and Signature versions V13(2009), V12 (X2),V11, V10, V9, V8 and V7.
Composer
Advanced Lettering and Outline Editing Create customized embroidered text in any shape and style or convert TrueType® fonts to quality satin stitches for beautiful lettering. Add text to merged design files for unlimited design possibilities. Use Draw Fusion to convert vectors intelligently and interactively into exquisite embroidery.
Over 180 Pulse fonts with detailed individual letter editing.
The choice for users who require text and monogramming features.
Overview
---
DG16 includes an impressive array of new and updated features provides all of the tools you need to succeed, and more. Please CLICK HERE for a preview of the software. Please note, some features shown are not available at all levels.
Composer
Personalization with Lettering and Outlines.
Over 180 Pulse fonts with detailed individual letter editing.
The choice for users who require text and monogramming features.
True Type Font to Satin

Convert any True Type font to satin or another available stitch type to instantly expand your lettering offerings.

Start Lock Stitches Inside for Text

Place lock stitches inside text segments to make them invisible.

Individual Letter Editing/Colors

Rotate, resize, skew and change the color of individual letters in one text segment.

DrawFusion

Combines the drawing power of CorelDRAW® with the stitch generation of DG in one window. Make changes to one, and they will be updated in the other.

Save Presets

Save your favorite settings for any stitch type and access them quickly and easily without having to remember them all.

Monogram Wizard

Select your letters, orientation, scale, font, frame and décor and DG will automatically create a beautiful monogram design.

Adjust Sew Sequence

Click and drag from the sequence view to change the order in which your design is stitched.

Fabric Recipes

Preinstalled settings to have the ideal underlay, density and push/pull compensation for different fabrics.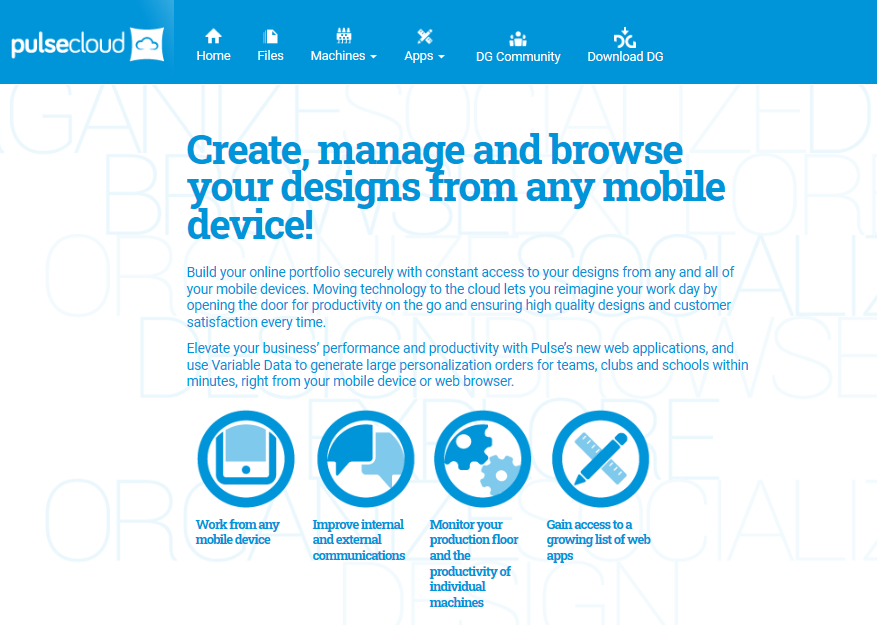 DG16 offers exclusive seamless integration with Tajima LAN Enabled embroidery machines. Never deal with disks or USB Sticks again. All current Tajima embroidery machines as well as machines manufactured within the past 5 years have the capability of seamless integration. (LAN licenses required).
click here to See More Features and available options
Would you like to learn more about this great product? To schedule your own personalized live demonstration, please click here or contact our customer care department at 800-394-4426 and ask to speak with a software representative.